Daycare
What is Doggy Day care?
Doggy Day Care is a day care service for your dog. It is more than just minding your dog. Daycare for dogs involves any or all of the following activities:
General Exercise (playing with other dogs)
Mental Games (ball throwing and rope pulling with attendants)
Social Games (mixing with other dogs)
Relaxation Time (structured rest time)
Toys and Obstacles (play equipment allows dogs to play and climb)
Water Play in summer (wading pools)
Agility (agility equipment builds mental stimulation)
Treadmill Training (supervised walking training only - great for energetic dogs - requires owner permission/request)
How does it work?
Daycare at Scruffy's is available Monday to Friday from 7am till 7pm. A half-day daycare stay is also available.
Dogs are assessed before they can attend Scruffy's.
Enrolment (including assessment) costs $25.
Assessments are available Monday to Friday 7:30am-11am.
After passing the assessment the first 5 visits are on a probationary basis. This gives staff the chance to get to know your dog over a few days. Once the first five visits are successfully completed, you are welcome to book recurring bookings and, if you wish, to purchase a multi-visit pass.
Drop your dog off anytime after 7am and pick up anytime before 7pm (Mon-Fri).
Bookings are essential (bookings@scruffys.com.au), however you are welcome to give us a quick call just before you bring your dog down. Dogs are not accepted after 2pm.
How often should my dog come to day care? Dogs attend Scruffy's every day, a few times a week or even just one day a week to give them a day out. It's up to you whether your dog comes casually or regularly however we recommend that a dog will be happier and better socialised by attending daycare at least 1-2 times per week.
Health and Safety: At Scruffy's the health and safety of your dog is our top priority; our specially built areas have beds and fresh water, are heated in winter and fan-cooled in summer.
All our dogs are carefully grouped each morning into the appropriate small group we think is best suited to their age/size and temperament.
With our unique and specially designed removable fence system we have between one and four play areas available.
We have a special puppy and young dog group.
We also have a strong and energetic group for those dogs that play more physically.
Older dogs are catered for with individual attention where required.
Cost: You are welcome to pay per visit for daycare however if your dog is attending regularly you can purchase multi-visit passes which drop the price of each visit down. Go to our daycare price list here.
Training: Day care also includes ongoing on-site evaluation of your dog's needs whether they be social, the best dogs to mix with or perhaps in need of a bit of one-on-one training. We also provide specific training courses with Lauren Hoyle of Pawfect Behaviour - for more info go to Dog Training in the menu.
Important Note: Proof of current vaccination to a C5 level (C3 plus canine cough) is a condition of entry to our premises. Please ask staff for more information.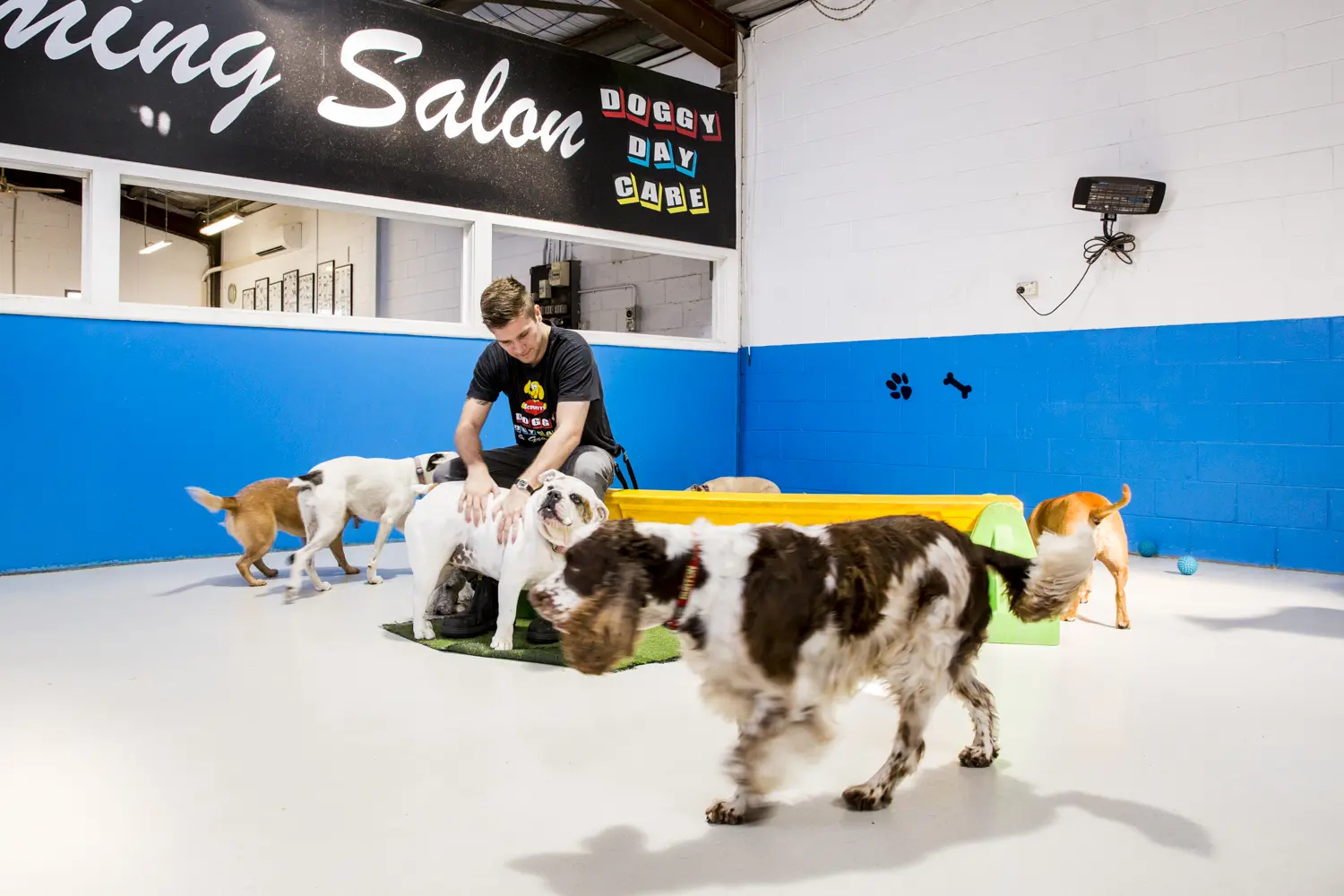 Overnight Minding: Scruffy's is a long daycare centre. However if you are looking for overnight or holiday minding please speak to one of our friendly staff for recommendations.