Testimonials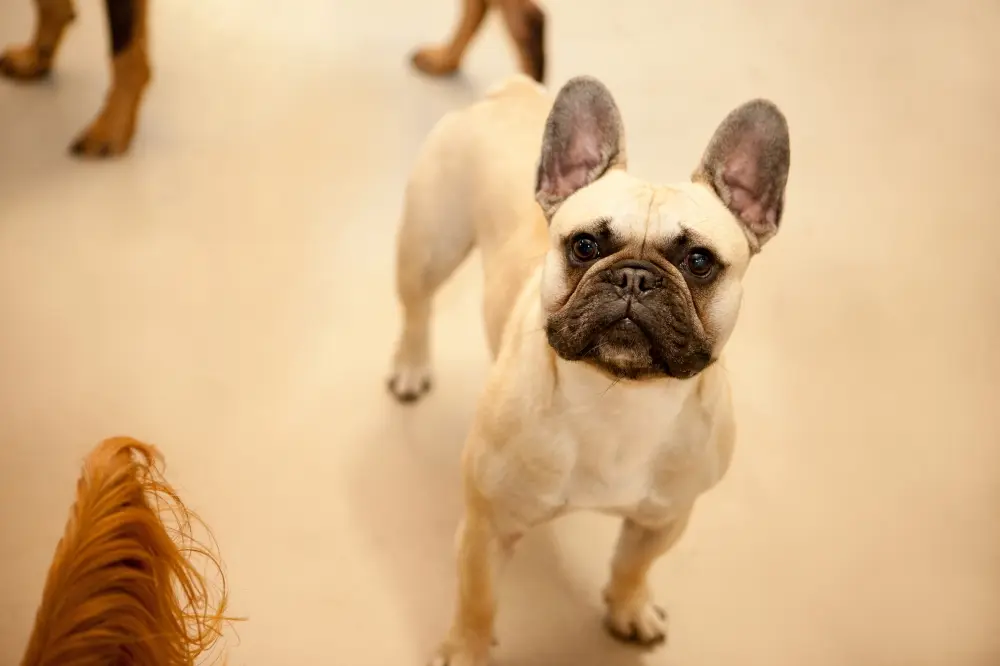 I'm not sure who loves Scruffy's more, my dog Dolly or me. For me, it gives me a great sense of peace of mind and happiness knowing that Dolly is having the time of her life playing non-stop all day long in a controlled and safe environment with dogs of every shape and size. What with all of the ball games, rope games, chasing, cuddles and everything else imaginable how could you not have fun! Knowing that she is not spending hours on end at home on her own day after day whilst we are at work, but instead living it up at Scruffy's, means that I don't have to feel guilty every time I look at those big sad puppy dog eyes when I leave home for the day.
For Dolly it's like all her Christmases have come at once every time her paws set foot through the doors. She is so full of excitement that she can hardly contain herself in anticipating of starting her days play. At the end of the day, she is already asleep in the car on the way home. This makes for one happy dog and one very happy owner.
Scruffy's would not be the fantastic environment that it is without the amazing staff. When Dolly had a knee operation and had to remain quiet for 4 weeks, rather than keeping her home every day bored out of her mind, the staff at Scruffy's happily looked after her, keeping her with them so as she had some company during the day. They even carried her up and down the stairs! This was above and beyond what I would have every expected and as such I cannot praise them enough.
- Karen & Dolly
I have two small dogs, one of which is not good with other dogs but loves people. Their solution is that Sophie stays with the staff while my other dog plays with the small dogs in the area allocated for just the small dogs.
The staff are outstanding, they know my dogs and their little quirks, they are friendly and nothing is too much trouble.
I love going into a place that knows me and my animals just so well.
- Jan, Allie & Sophie
Baxter, our English Staffy has been attending day care and grooming at Scruffy's since he was a puppy. He is now 5 years old and goes several days a week. Baxter has had numerous operations and issues with his limbs and as a result needs a bit of special care. Sarah, Caitlin, Vanessa, Kiyoko, Lauren, Clare, Bec Sam and the team have been amazing with their genuine love and care for Baxter. I have complete trust in the level of care and attention he and all the other dogs have each day at Scruffy's. I tell as many dog owners as often as I can about what a fantastic, safe and professional doggy day care and grooming centre this is.
Nothing is ever too much trouble for any of the Scruffy's team and Baxter absolutely loves going to play with his friends - 2 legged and 4 legged.
He is well cared for, loved, cuddled, monitored, watered, kept warm when it's cold, and played with and I love having such a great care option available for him. I am going on holiday and hate the idea of leaving him - but know !00% that while he is at Scruffy's he will be safe, loved and VERY happy!
- Rose, Michelle & Baxter
I used to take Phoebe to another grooming salon, and when I would go to pick her up she would be shaking and hiding under the table. Now she goes to Scruffy's for grooming and daycare. She comes back looking very pretty and smiling like a happy pup.
- Jacinta & Phoebe
I have been taking my Labrador, Ash, to Scruffy's since she was 7 months old. She is now nearly 6. I can honestly say that her time spent at Scruffy's has been instrumental in shaping her into a very well behaved and socialized dog.
It is easy to see how much she loves spending time at Scruffy's as when I arrive she nearly rips my arm out of the socket trying to get to the front door. It is great to have found a place where I can leave my four legged friend and know that she is well looked after and happy. Every time I pick her up she is exhausted from having a full day of playing with the other dogs.
The staff there treat all of the dogs as their own and are very knowledgeable in looking for any illnesses or problems that the dogs might develop. It truly is doggy heaven. I cannot recommend the services of Scruffy's enough to anyone who wants to find a fun, safe, and controlled environment for their dog to spend time in.
-John & Ash
Our family are the lucky owners of a Spoodle called Les. We have been weekly clients of Scruffy's since its opening. Les attends Scruffy's every Monday for his weekly "wash and blow-dry".
I cannot speak highly enough of the girls at Scruffy's and the love and care they show Les every single week. Les is so happy when he arrives every Monday morning and is always immaculate when we pick him up. My daughters love to read his report card after his visit each week.
It is wonderful to see the same smiley faces at Scruffy's each week. That in itself is testament to the fact that Scruffy's is a wonderful business that obviously values its staff as well as clients.
We wish Scruffy's continued success and thank you all again for the love and care you give Les.
- The Collins Family & Les the Spoodle
Chopper has a permanent weekly booking at Scruffy's and has been going ever since he was a puppy. He loves it and comes home exhausted and very happy. Chopper knows the word Scruffy's, it makes him run with excitement to the garage door to wait for his trip to doggie day care. The staff are all wonderful, I love to see choppers reaction when they greet him. I have also used the grooming and the drop off service, both excellent! The best thing is I totally trust Choppers care at Scruffy's and I highly recommend it.
- Fleur & Chopper
Our Labrador Rocky attends Scruffy's doggie day care facilities full-time. He's been enjoying this great day care for over 5 years. He spends loving hours with the Scruffy's Staff and all his wonderful dog friends. He looks forward to going every day with complete abandon. He has bonded with the staff who treat him like he is their own and enjoys their care and attention. He spends is fun-filled day-care days playing with his friends, lazying in the sun, running on the treadmill and wandering the corridor. He's also enjoyed the grooming services of the wonderful and talented grooming staff.
We would recommend (especially Rocky) anyone on the Northern Beaches with a dog to send them to the loving arms of Scruffy's For a short or long visit your dog will love you for it.
- Lisa & Rocky
Myself and my partner were having a few behaviour issues with our dog in the way he does not handle new people well, and would get a bit frantic, we had seen Scruffy's, and had heard from other friends that it may help. So we booked him in to be assessed, and only after a few weeks we saw a real turn around in his behaviour, and he is a lot more social around people, as well as with other dogs, we can't thank Caitlin and the girls at Scruffy's enough for the turn around in his behaviour and how much he has changed
- Nathan & Frank
My dog William has been attending Scruffy's nearly every week for the last four years. He absolutely loves it!! I'm sure he knows when we're getting close, he gets excited in the car and starts looking out the window. By the time we pull up and I get his seatbelt off he's ready to launch out the car door and run inside to play. I used to get upset when he'd run off without even a backwards glance, but I'm used to not getting a goodbye now…he's obviously got more exciting things to do! Unlike when he's at home during the day I don't think he misses me for a minute whilst at Scruffy's.
I'm pretty sure the Scruffy's team love him just as much as he loves them (especially his favourite Caitlin) and I love knowing he's so well looked after and entertained while I'm at work. When I pick him up in the afternoon he is totally exhausted. More often than not, he's asleep before we even get out of the street. He's clearly had an action-packed day!
- Danni & William
First and for most I would like to thank Sarah and her staff at Scruffy's for the help, training and support they have given me and my dog over the last 6 months.
Danger my staffy has had personality problems with other dogs and only the girls at Scruffy's have been able to make headway in the training of not only myself but also my dog.
Currently we have made great moves forward in his training and even with the training going so well I will still be sending him to see the girls as I feel there is so much love given not only to my dog but too all.
I have had no problems recommending them to all of my friends and family.
- Mitchell Standen & Danger
Buster is our beautiful 10 year old GSP who suffers from a severe case of separation anxiety.
It was with some trepidation that 4 years ago we started to bring Buster to Scruffy's. However we could not be happier with the care and attention he has received from all of the Scruffy's staff members, and have noticed an improvement in his behaviour. We know that when Buster gets a little anxious there is always someone to give him a pat and calm him down.
We would have no hesitation in recommending Scruffy's to anyone who is looking for somewhere to take care of their "prize pooch".
- Loris & Ian Aldersea