about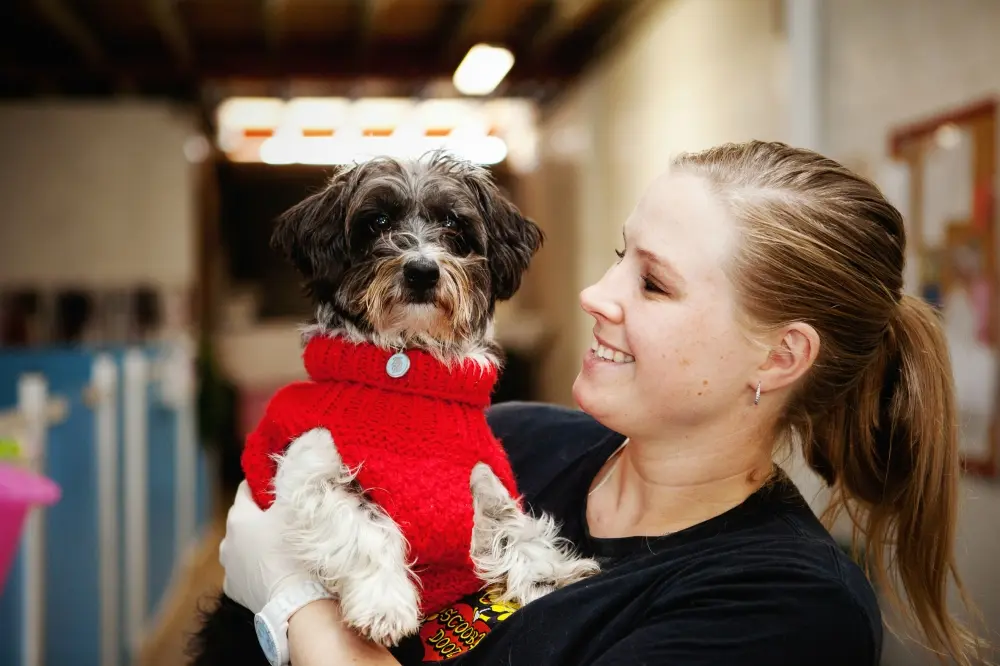 Since moving to our beautiful premises in August 2011 we have continued to develop our vision of a world-class dog daycare and grooming centre. In September 2015 we changed our name from Scoobydooz to Scruffy's. We are very excited about our new name not to mention a cheeky new dog as our new mascot!
At Scruffy's we are passionate about the concept of doggy daycare. To us it is a necessity for dogs to be mentally stimulated and build friendships. They are pack animals and too many are left home alone every day waiting for their humans to return. By the end of the day the humans are tired and the dog is wired!
Scruffy's Dog Daycare is more than just minding dogs. We provide a safe, stimulating and fun place for dogs to socialize with each other. Our attendants are on the move all the time keeping the play areas clean and working in each play-group with a fully structured day of activities and rest time.
Dogs attending Scruffy's are assessed only on their own individual suitability, not by breed, age, size etc. Remember your dog's behaviour will be different in the daycare environment than say, at home, or in a dog park. To us our dog-clients are like little people.
We do not accept any aggressive behaviour and if a dog is too anxious in a group environment they may not be suitable for daycare. For any dog that may fail their initial assessment we often recommend further training to help with their fears. In many cases we have welcomed dogs back into daycare after a second assessment and they have thrived.
We have one of the most flexible daycare centre spaces in Australia. With our unique and specially designed removable fence system we have up to four play areas available giving staff lots of flexibility when choosing an appropriate play group for each dog, big or small, young or old, working breed or non-working breed. For very old dogs or dogs with special needs we can offer areas that are less active (helping the staff at reception or supervising admin is a favorite task of many of our regulars!)
We have a state-of-the-art grooming salon and our grooming team have won many awards including the Royal Easter Show 2012 and 2013 as well as Ausgroom 2013 and Summergroom 2011.
The Scruffy's Vision:
To provide a safe, healthy and happy environment for people to bring their dogs to play and socialize and develop their personalities.
To offer top quality grooming at an affordable price and for that grooming to be in a relaxed, caring, open-spaced environment where dogs are free to roam and play during the grooming process.
To offer the best customer service and to engage with our customers with honesty, integrity and enthusiasm.
Our dogs come first - their health and safety and their enjoyment.
To take the time to get to know every dog and their individual needs.
Our staff are valued and work as a team and as individuals to achieve set goals for reward.
Our staff have a very high work satisfaction level.