Our Staff
Our staff are the backbone of Scruffy's and are the key to your dog having a great day. They all share a common vision...
Make Scruffy's the No. 1 choice for Grooming and Daycare on the Northern Beaches.
Create a warm and caring environment where all dogs can flourish whatever their needs.
To create a safe, clean and fun area for all attending dogs
To maintain the high grooming standards and to have every staff member trained in basic grooming skills
For our groomers to gain their master groomer certificate.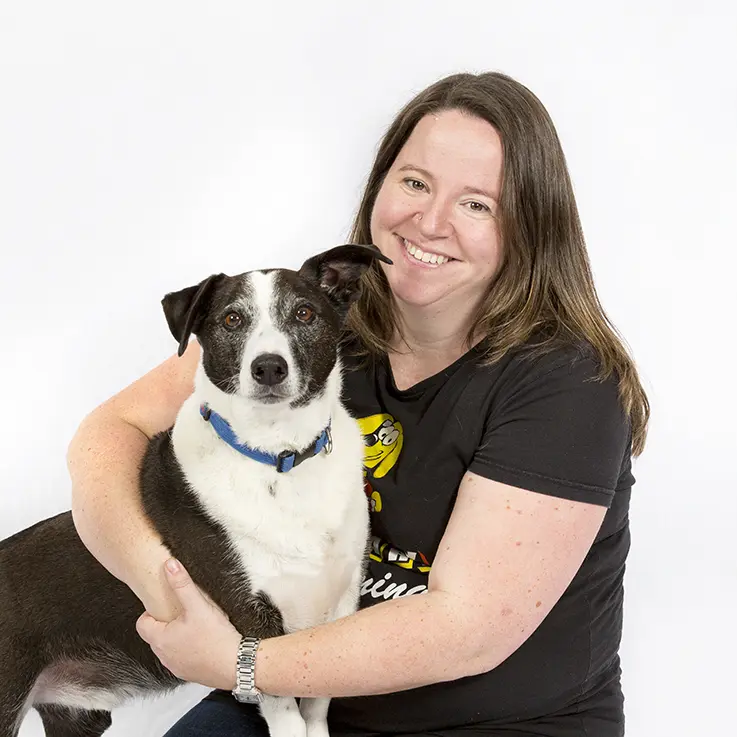 Sarah - Co-owner
Sarah joined Scruffy's as the full-time manager in September 2008 and is now a co-owner of the business. Originally from the UK with a background in child care management, Sarah moved to Australia in 2004 to help build and run six childcare centres on the Northern Beaches. Four years on her passion for dogs took over and she made the move to Scruffy's and has never looked back. In 2009 Sarah welcomed Chester, a Koolie x Kelpie rescue pup into her life. Pictured here looking cheeky and slightly eccentric we all think with his cute short stature he just might have a little Corgi in him :)
Sarah has a certificate in Advanced Canine Communication and is qualified in Canine First Aid. She has a great passion for Scruffy's and has created though her determination, passion and love for dogs an incredible team of caring and disciplined daycare attendants and groomers.
In August 2017 Sarah and husband Matt welcomed their son William into the world and we couldn't be happier that the Scruffy's family is expanding with humans we well as our beloved pups!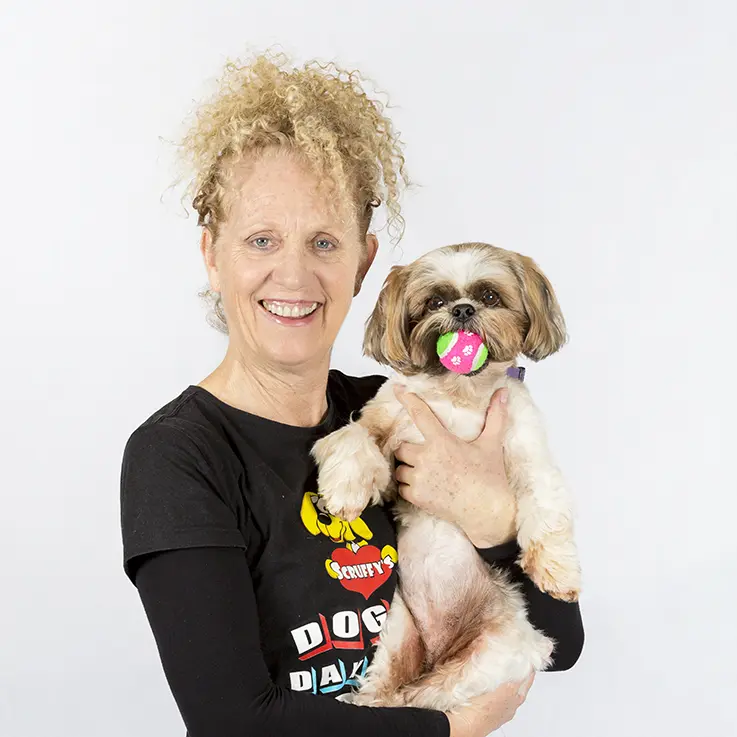 Eleanor - Co-Owner
Eleanor is not quite sure how she moved from being a client with a 16-week-old Shih-tzu puppy to a few years later, the proud co-owner of Scruffy's. However, the adventure continues and Eleanor brings a solid background in business development and marketing experience to the team. After training in Opera as at the NSW Conservatorium of Music Eleanor embarked on a career in business focused on sales and marketing and left a flourishing career in advertising account management/sales to take on the adventure with business partner, Sarah, of building Scruffy's into the business it is today.
She is proud to introduce the afore-mentioned Shih-tzu, Lexie, pictured here with her favourite and trusty ball. Lexie can be found most days in reception greeting clients and keeping the team in check - although in reality actually keeping an eye out for her no. 1 who may come through the door any minute!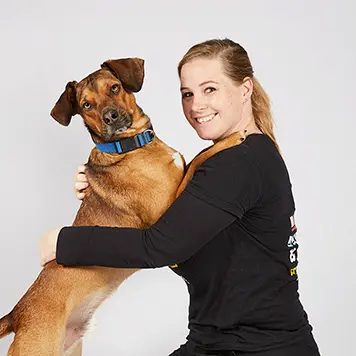 Lauren - Manager
Lauren moved to Australia 18 years ago and now calls Australia home. She holds strong ties with her home-town London, England and grew up in a family committed to rescuing homeless and abused cats from the streets of London. Back home in Australia, Lauren has continued to be involved with street cats, most recently, rehabilitating and ultimately rehoming, colony streets cat in conjunction with Pittwater Animal Hospital and in the last eight months has rehabilitated and rehomed seven cats rescued from the streets of the northern beaches. After a career in retail and management Lauren started at Scruffys in 2011 as a daycare attendant is now the general manager of Scruffys, she manages about fifteen people across four departments, daycare, grooming, reception-retail and school bus. Scruffy's survives and thrives because of Lauren's commitment to her team members, her passion for dogs and her experience in managing people and running a busy reception-retail area. This bio would not be complete without mentioning Hunter, the crazy, giant eared HuntawayX with the wonky eye who Lauren decided to adopt as a pup in 2018 after falling in love with this young tearaway. Hunter had a rough introduction in life and we think he won the owner's lottery the day these two set eyes on each other. We couldn't be happier for him.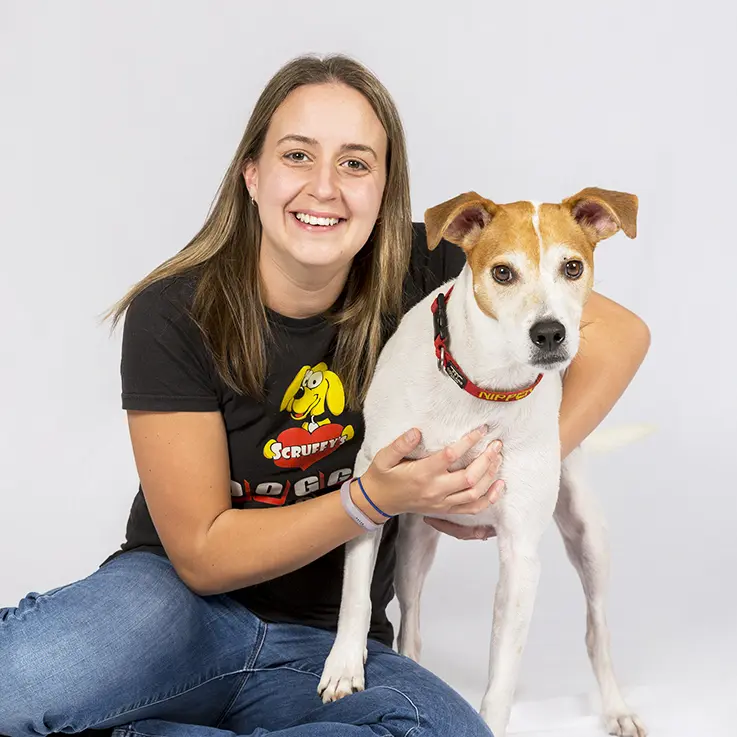 Vanessa - Reception
Vanessa - or Ness as she has become known, is originally from Birmingham in the UK. Ness has been a lover of our canine counterparts all her life. Ness and husband, Phil arrived in Australia in 2008 to start a new life.
Ness is pictured here with Nipper, their cheeky Jack Russell rescue pup who has brought much joy into their lives with his antics! Vanessa completed a National UK Diploma in Animal Husbandry and finds working with dogs a rewarding and enjoyable experience.
In 2015 Ness and husband Phil welcomed their daughter Chloe into their lives
Our Grooming Team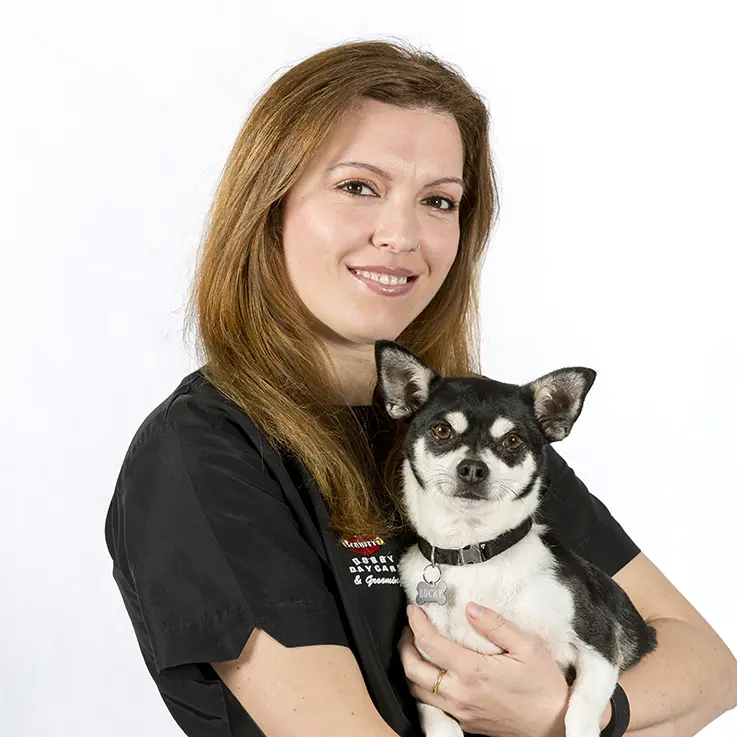 Sonia (Currently on Maternity Leave)
Sonia was born in Barcelona, Spain. After re-locating to the Northern Beaches with her husband and young son, Sonia is now very much part of the Scruffy's family.
Sonia is a fantastic dog handler and groomer and has been working with dogs since 2007 and during that time managed a dog care salon in Barcelona. As well as dog handling Sonia's skills are in demand as a hand-stripper of terriers. Its not surprising that Sonia's favourite breed to handle is the Terrier.
Sonia says she has enjoyed learning so much about Australian breeds and cross-breeds and is now highly sought after for her grooming of Cavoodles, Spoodles and Groodles - in fact any 'oodle you care to name! She is pictured here with her own beloved Lucky, a rescue Chihuahua x she saved from a life of solitude in a crate in a high-rise apartment.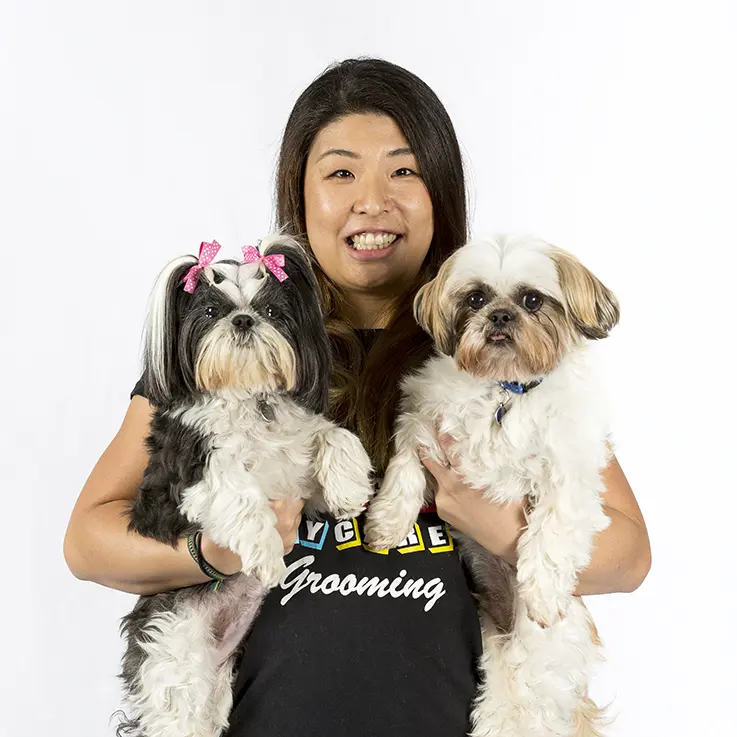 Kiyoko (Currently on Maternity Leave)
Originally from Japan, Kiyoko has been with Scruffy's since 2007. She is an award-winning groomer with a wealth of experience in all styles and a gentle approach. Kiyoko enjoys grooming all dogs, but has a passion for Poodles and Shih-tzus. She was proud to pose in this portrait with two of her biggest fans, our adorable Shih-tzus, Andi and Alfie.
Kiyoko has a high work ethic and enjoys making sure that the grooms she produces are to the exact specification of the owners.
Kiyoko is constantly striving for that perfect groom...personally we think she already has it! In 2017 Kiyoko won first place in Open Poodle at the Royal Easter Show on a beautiful mini brown poodle. Previous Awards include: 1st Place - Open Terriers, Royal Easter show 2013, 2nd place - Gundogs & 3rd place - Master Salon Freestyle, Ausgoom 2013. 1st place - Salon Freestyle, Royal Easter Show 2012 and Best In Group, Summergroom 2011 Poodle competition on a beautiful standard white poodle. Kiyoko continues to compete and is currently studying towards her ICMG (International Certified Master Groomer) qualification.
Additional Team members in our Grooming
Sayuri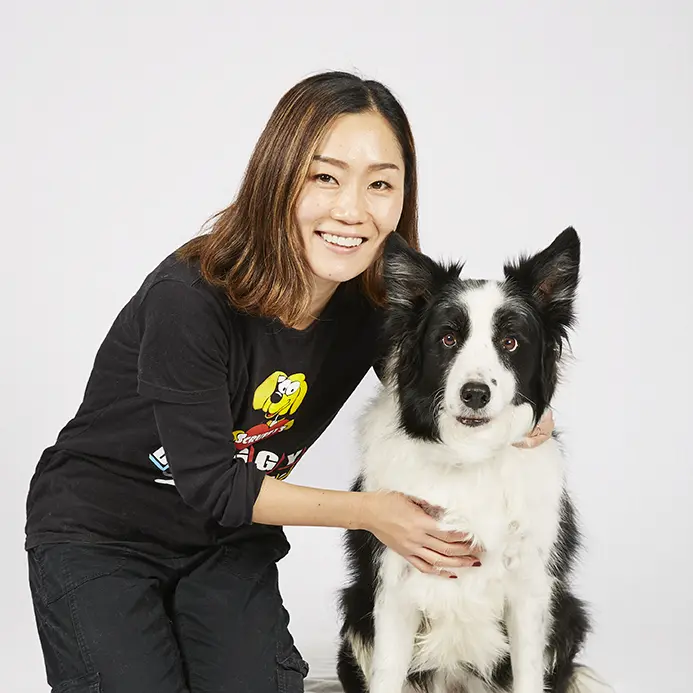 Miki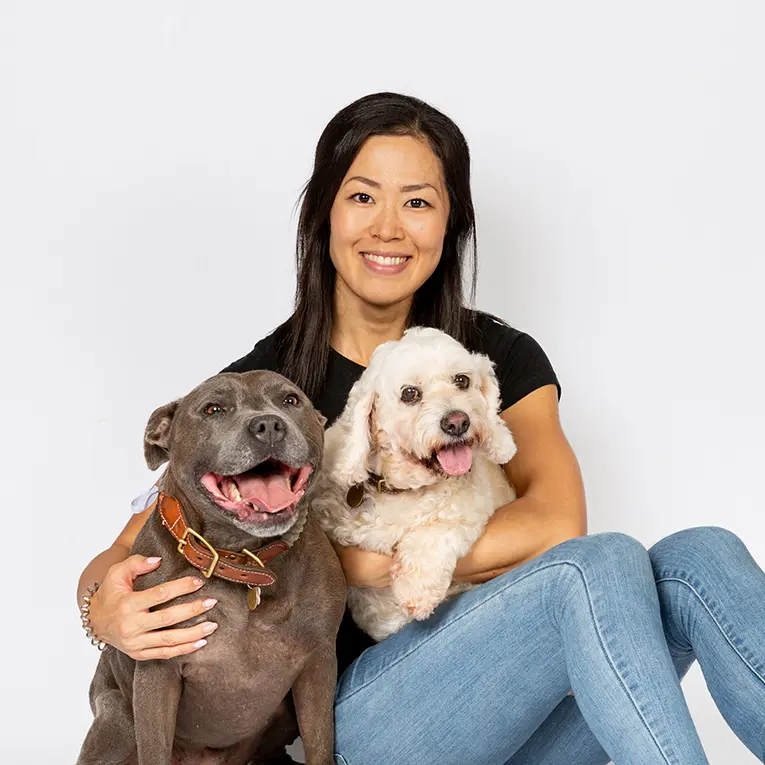 Tomomi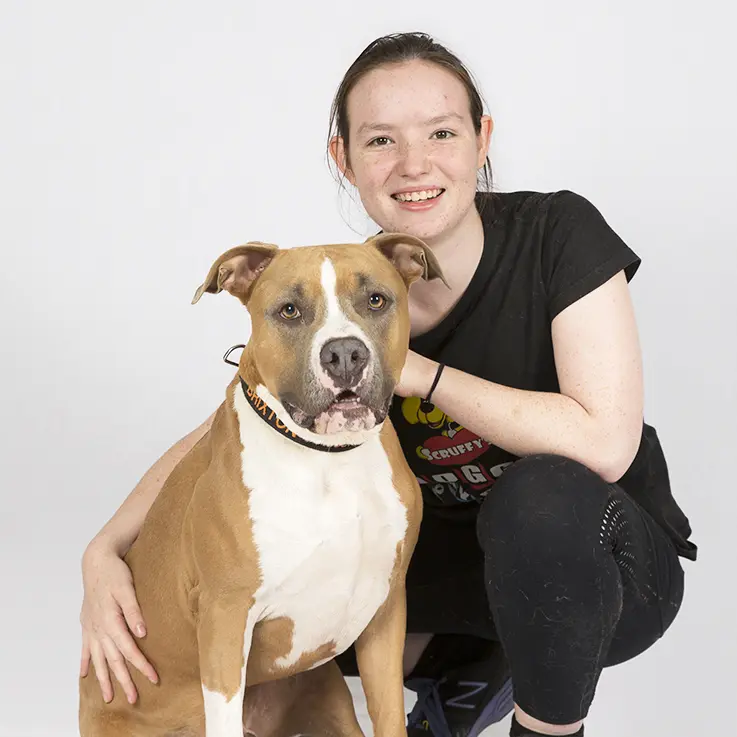 Georgia

Rachel
Our Daycare Team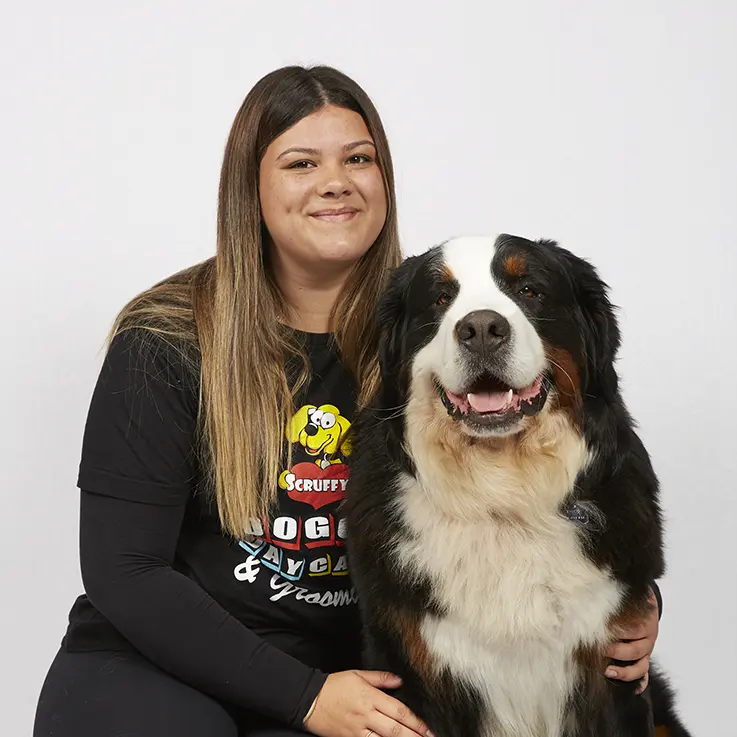 Anna
Anna's passion for dogs lead her to Scruffys and we are thrilled to have her on our growing team. At the ripe age of two Anna began a nineteen year long relationship with her first love, Flopsy, a Maltese x Llasa Apso. By the age of seven Anna was minding dogs for neighbours and family friends and now, many years later, that passion has only grown stronger, most recently fostering dogs for the Central Coast animal rescue facility. After a three-year stint working and studying childcare Anna was lured to working in the Scruffy's Daycare team and now across the Daycare and Reception teams. Most days Anna can be seen on reception ably assisted by Theo, her Giant Bernese Mountain dog, himself an Australian Champion. Longer term, Anna would like to study dog training and behaviour perhaps even a career as a vet.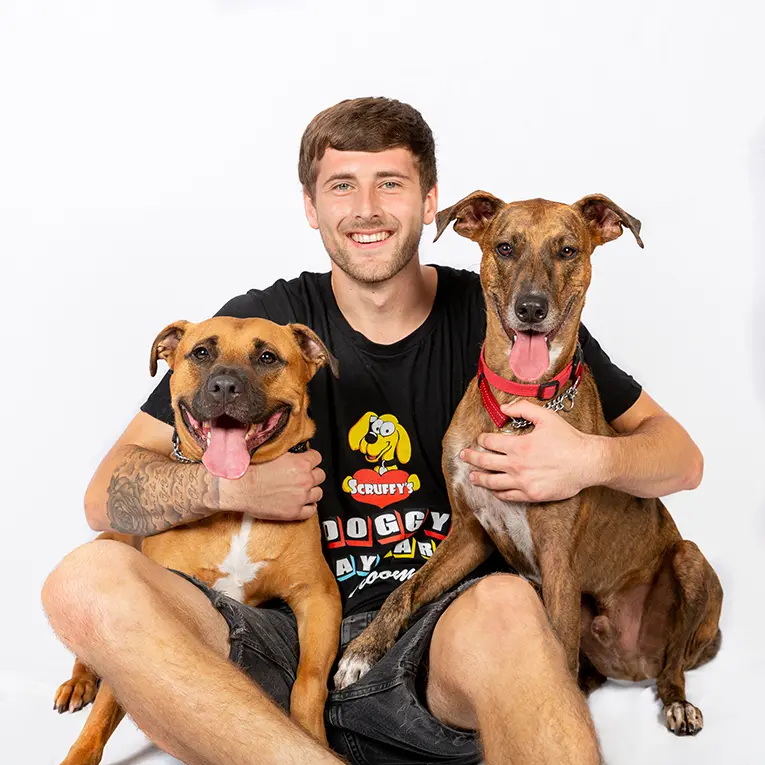 Jack
Born in Bristol, England Jack has been around dogs all his life. He and his family moved to Australia in 2008 and luckily for Jack his mum's own love of dogs led to a family passion for rescuing abused and abandoned dogs. This definitely filtered through to Jack and his brother and has led to a life-long connection with rescue dogs. Jack started as one of our casual school bus drivers in 2019. He loved driving the bus so much he ditched his other job! Jack is now is one of our treasured up-and-coming full-time daycare team members and his instinctive skills with handling dogs and understanding dog behaviour is obvious to all who come in contact with him. He is also is now enjoying building relationships with customers when he gives the daily feedback at going home time. He is keen to one day gain qualifications in individual dog training and in our opinion he is in the best environment to do that as in a dog daycare environment pack management is the key and at the same time knowing the personalities of each and every dog. Jack is a keen learner and as well as his passion for dogs is a brilliant soccer player and when he has time, coaches kids in that sport.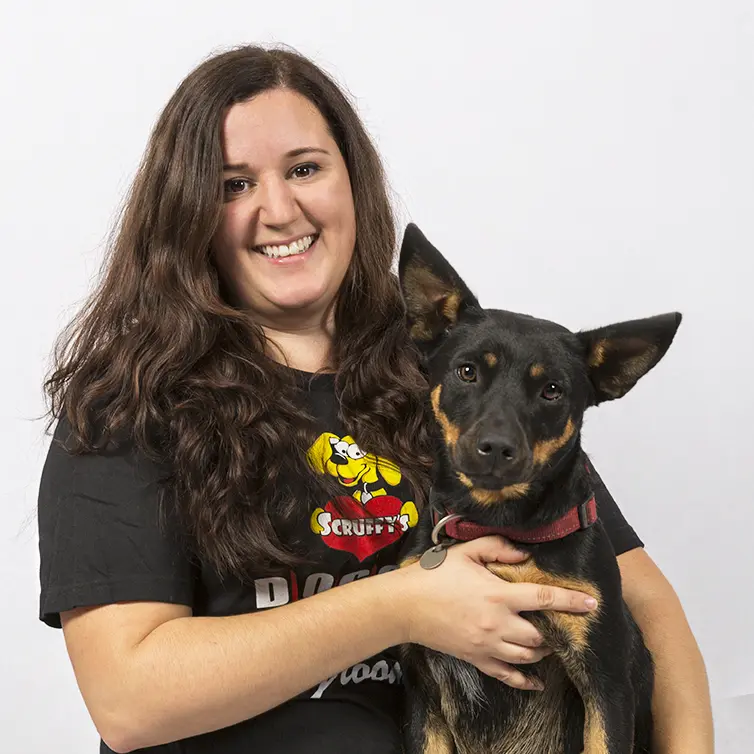 Bree (Currently on Maternity Leave)
Bree loves everything animals. This passion has led her to become a qualified vet nurse, zoo keeper and dog trainer. Her obsession with animals has given her the opportunity to work for a variety of different organisations including the Animal Welfare League and Taronga Zoo.

Although she has worked with an enormous amount of exotic and native animals, her number one favourite animal has always remained the same…dogs.

Bree has a strong interest in animal behaviour and training which has led her to become part of the Daycare Team at Scruffy's.

Although she is adamant about not having a favourite breed of dog, she has a major soft spot for Australian working breeds like her kelpie x 'Molly'.
Additional Team members in our Daycare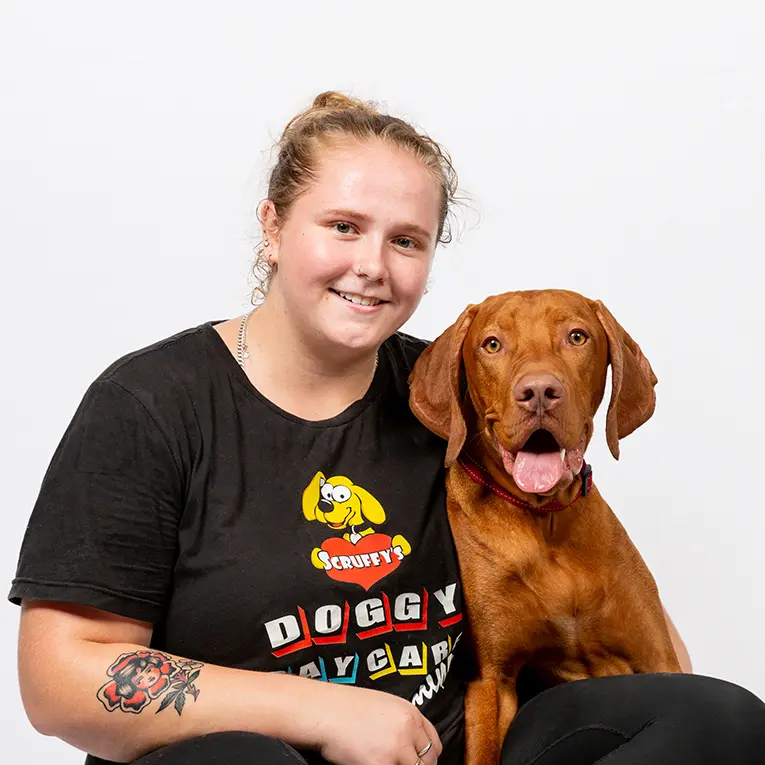 Julie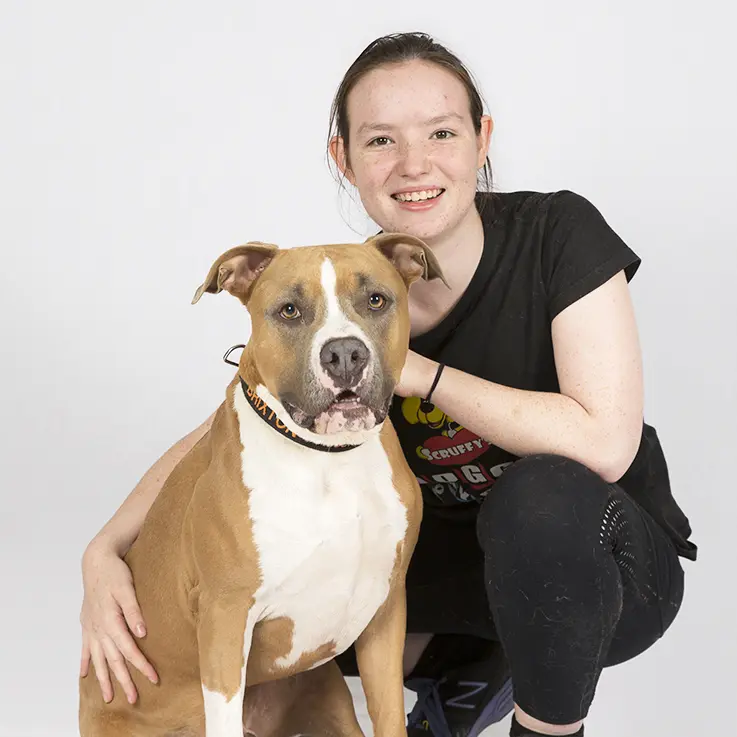 Georgia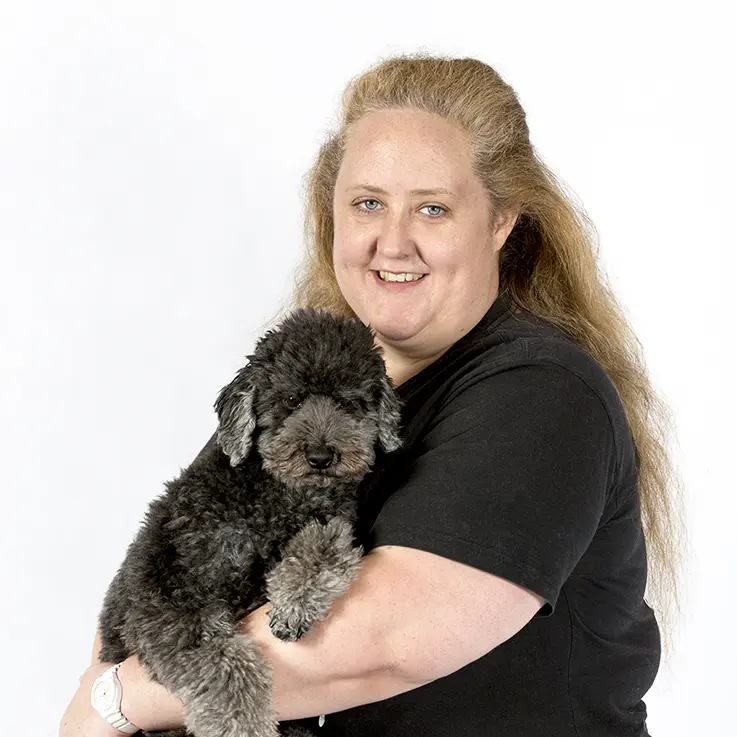 Claire
Our School Bus Drivers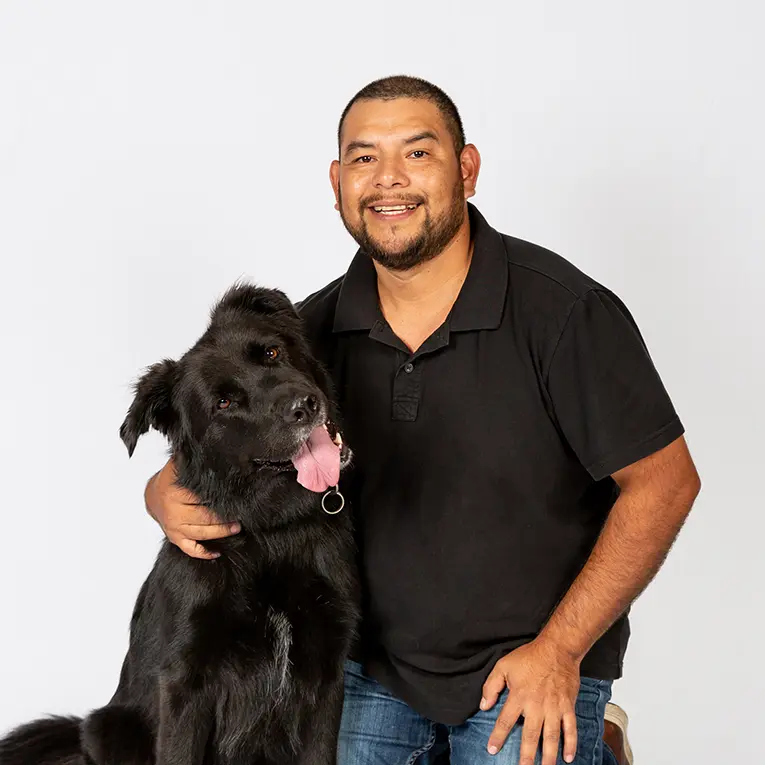 Ricky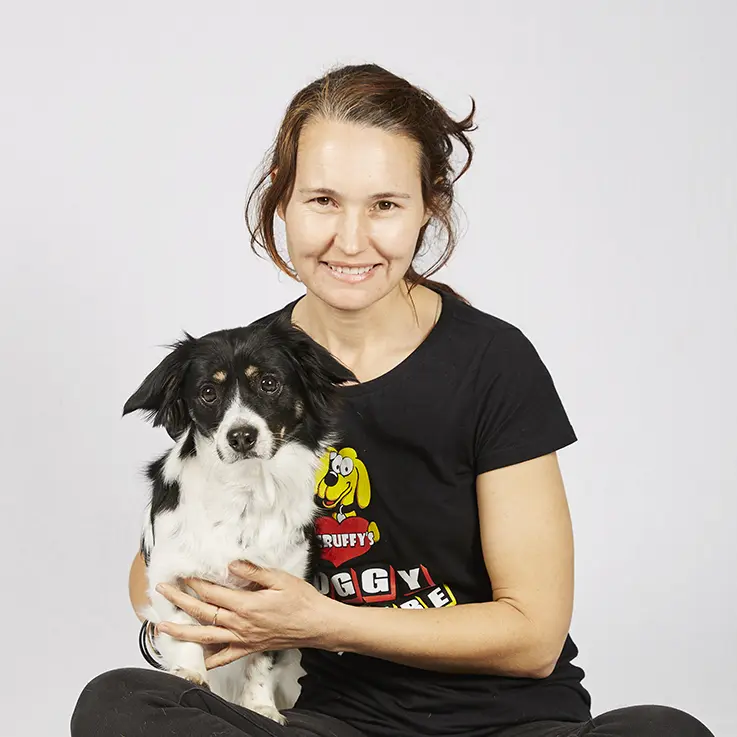 Zelda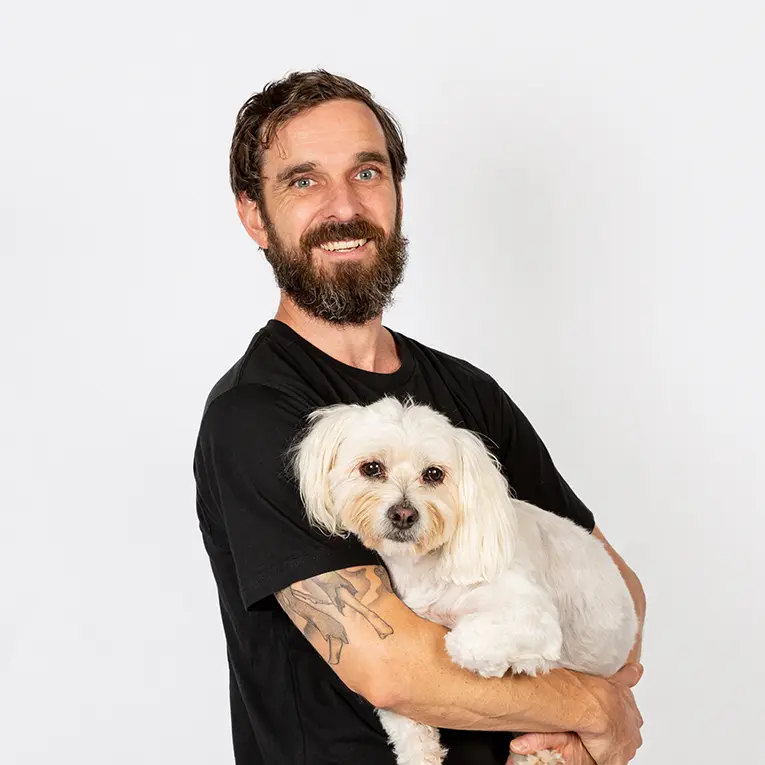 Alistair
Our Junior Afterschool Team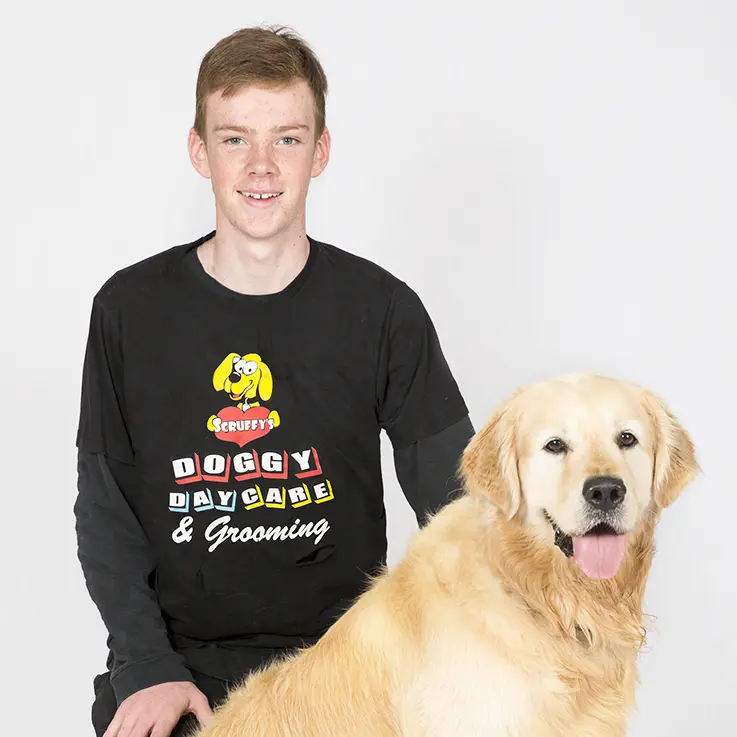 Conor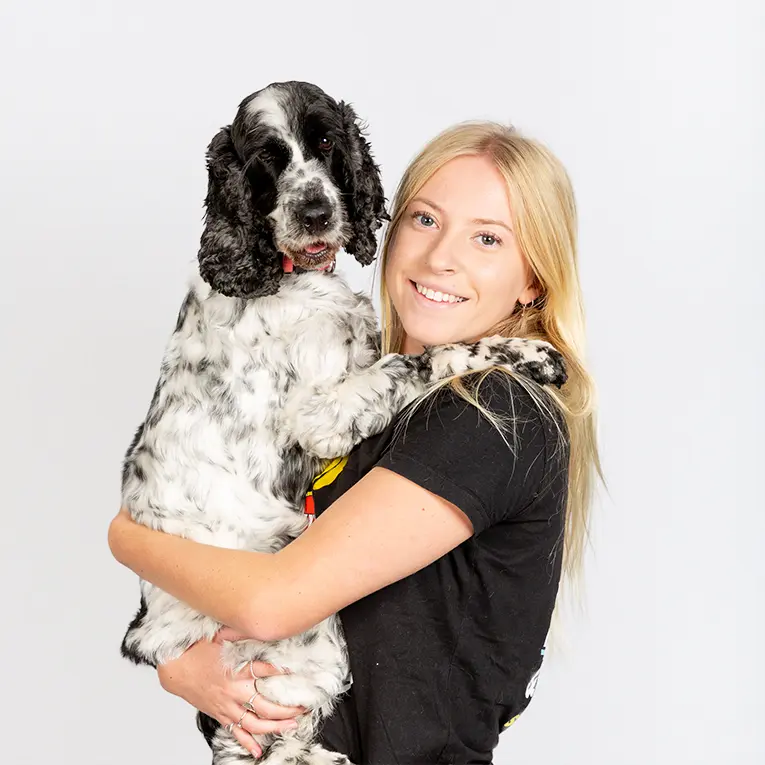 Megan