Our Staff
Our staff are the backbone of Scruffy's and are the key to your dog having a great day. They all share a common vision...
Make Scruffy's the No. 1 choice for Grooming and Daycare on the Northern Beaches.
Create a warm and caring environment where all dogs can flourish whatever their needs.
To create a safe, clean and fun area for all attending dogs
To maintain the high grooming standards and to have every staff member trained in basic grooming skills
For our groomers to gain their master groomer certificate.
---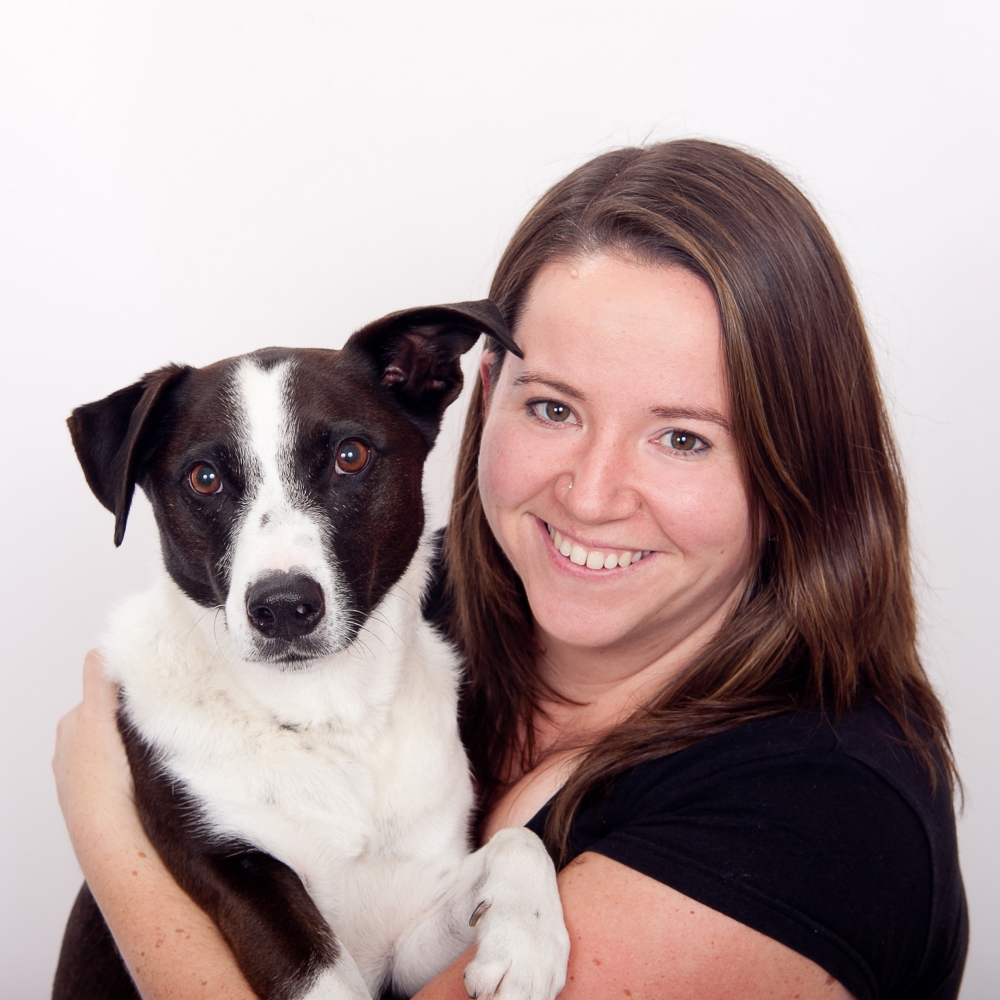 Sarah - Manager
Sarah joined Scruffy's as the full time manager in September/November 2008 and is now a co-owner of the business.
Originally from the UK with a background in child care management. Sarah moved to Australia in 2004 to help build and run six childcare centres on the Northern Beaches. Four years on her passion for dogs took over and she made the move to Scruffy's and has never looked back.
In 2009 Sarah welcomed Chester, a Koolie x Kelpie rescue pup into her life. Pictured here looking cheeky and slightly eccentric we all think with his cute short stature he just might have a little Corgi in him :)
Sarah has a certificate in Advanced Canine Communication and is qualified in Canine First Aid. Sarah has a great passion for Scruffy's and has created though her determination, passion and love for dogs an incredible team of caring and discplined daycare attendants and groomers.
---
Vanessa
Vanessa - or Ness as she has become known, is originally from Birmingham in the Uk.
Ness has been a lover of our canine counterparts for all of her life. Ness and husband, Phil arrived in Australia in 2008 to start a new life. Ness is pictured here with Nipper, their cheeky Jack Russell rescue pup who has brought much joy into their lives with his antics! Vanessa completed a National UK Diploma in Animal Husbandry and finds working with dogs a rewarding and enjoyable experience.
---
Kiyoko
Kiyoko has been with Scruffy's since 2007.
Originally from Japan, she is an award-winning groomer with a wealth of experience in all styles and a gentle approach. Kiyoko enjoys grooming all dogs, but has a passion for poodles and shih-tzus. She was proud to pose in this portrait with her biggest fan, our adorable Lagotto, Beckham.
Kiyoko has a high work ethic and enjoys making sure that the grooms she produces are to the exact specification of the owners.
Kiyoko is constantly striving for that perfect groom....personally we think she already has it! Kiyoko placed first in Open Terriers at the Royal Easter show 2013 and the same year was placed second in Gundogs at Ausgroom as well as third in the Master Salon Freestyle. Previous awards include first place in the Salon Freestyle Competition at the 2012 Royal Easter Show and first-place as well as Best In Group in the Summergroom 2011 Poodle competition. Kiyoko continues to compete and is currently studying towards her ICMG (International Certified Master Groomer) qualification.
---
Caitlin
Caitlin is an Aussie through and through, moving with her partner from the central coast in 2009.
Caitlin has owned and loved dogs most of her life and has gained experience in basic grooming. Her passion for the job and work ethics are outstanding as is her care and attention to detail.
Caitlin and her partner welcomed Jock the blue Staffy (pictured here looking very handsome!) into their lives in 2012. Jock has grown up at Scruffy's and is a beautiful and social boy with a gentle nature. He now has a family sister, Evie a lively young blue/brindle staffy to keep him on his toes.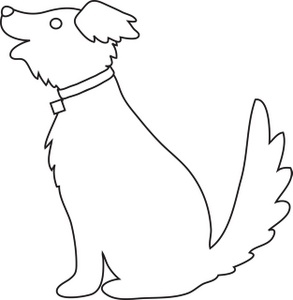 ---
Lauren
Lauren is originally from London, England and moved to Sydney in 2005. She was involved in the Cats Protection League in London which also dealt with unwanted and abused dogs. Through the CPL, Lauren and her family adopted a rescue dog Mister, a Welsh Border Collie. Lauren loves working with dogs and has a keen interest in dog behaviour. Lauren hopes one day to own a Husky or a Malamute (pictured here with one of our lovely Huskies, Boston). For the moment though her beloved cat Spencer is filling that void.
---
Sam
Sam is a qualified dog trainer with a certificate from the NDTF (National Dog Training Federation) in dog training and behaviour. Sam has made great strides within the daycare envrionment and has already a number of fans from amoungst our regular daycare attendees. Sam is pictured here with his treasured rescue dog Mack.
---
Sonia
Sonia was born in Barcelona, Spain. After re-locating to the Northern Beaches with her young family Sonia is now very much part of the Scruffy's family. Sonia is a fantastic dog handler and groomer and
has been working with dogs for over 7 years and during that time has managed a dog care salon in Barcelona as well as developed a love of hand-stripping terriers. Sonia's favourite breed to handle is the Poodle. She says she is learning so much about Australian dogs and is quickly gaining lots of experience with these breeds such as the Groodle! She is pictured here with Flirty our beautiful young Jack Russell Terrier.
---
Claire
Claire works across a number of departments in Scruffy's. As well as one of our experienced washer/bathers in our grooming salon she is also an experienced daycare supervisor. After running her own mobile grooming business in the past Claire joined Scruffy's to widen her skills and to satisfy a yearning to work in a team. She brings with her a tremendous sense of loyalty and a passion for working with dogs. Claire is pictured here with her treasured mini-poodle, Sola.
---
Eleanor
Eleanor is not quite sure how she moved from being a client with a 16 week old Shih-tzu puppy to a few years later, the proud co-owner of Scruffy's. However the adventure continues and Eleanor brings a solid background in business development and marketing experience to the team. She is proud to introduce the afore-mentioned Shih-tzu, Lexie, pictured here with her favorite and trusty ball. Lexie can be found most days in reception greeting clients and keeping the team in check - although in reality actually keeping an eye out for her no. 1 who may come through the door any minute!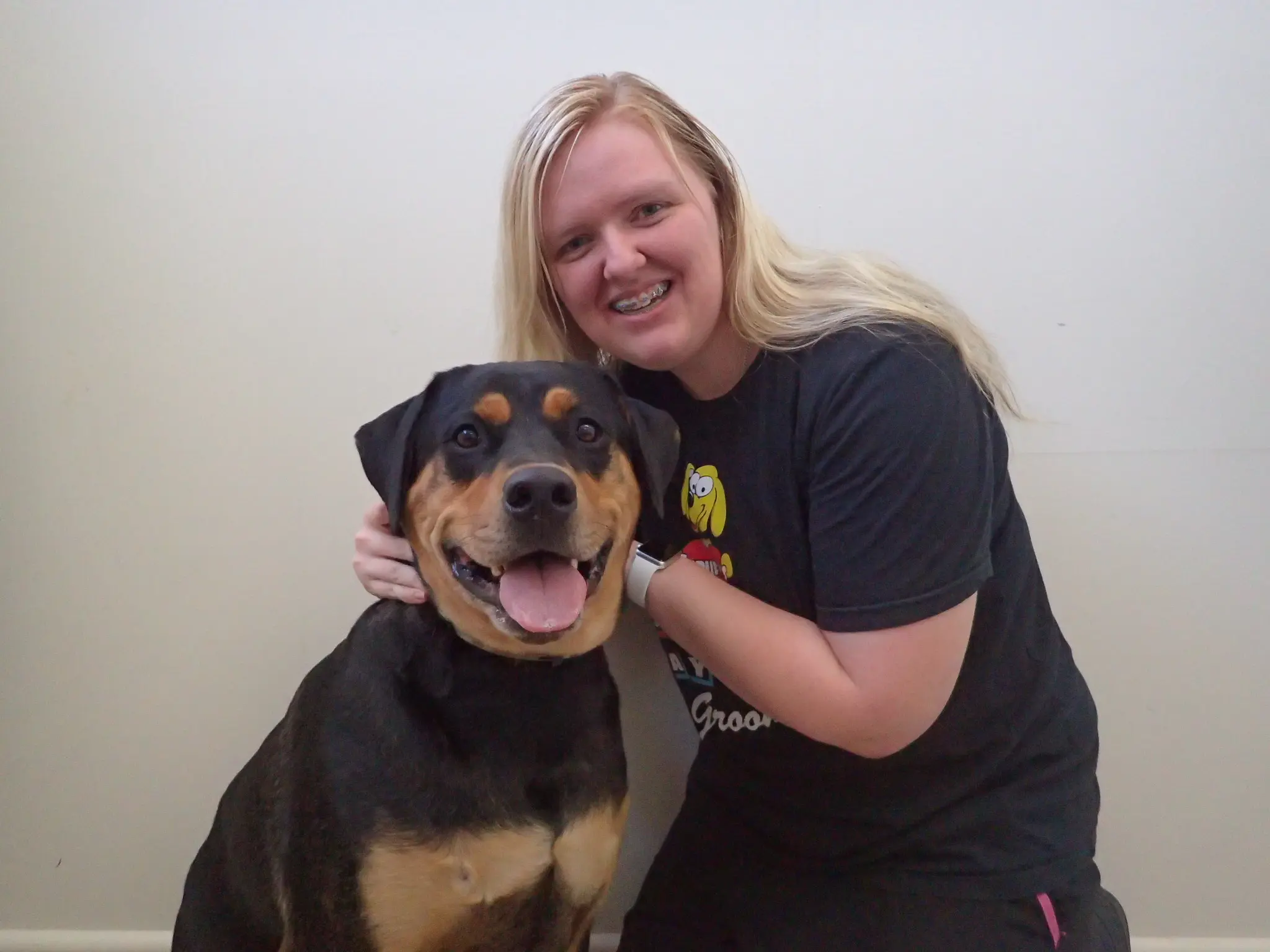 Shantel
Shantel is a graduate of Cromer Campus and joined the Scruffy's team as an after school helper before taking up a position in 2015 as a junior trainee in grooming and daycare. Shantel is now a valued member of the Scruffy's team and we don't know what we did without her before she joined. Her interests are learning everything she can about dogs and the care of our pets and collecting and reading comic books and boxing. Shantel is pitcured here with one of our beautiful clients, Baxter.